Shakra has a master's degree in Computer Science (Pakistan) and is currently pursuing a PhD in Safety assessment models in human-robotics collaboration under the Marie Skłodowska-Curie fellowship program (Ireland, Italy, and Serbia). She has done her bachelor's in Information Technology from Pakistan, and her research interests are Computer-aided assessment systems, Machine learning and Cognitive computing. She is also an ambassador of women in big data, Asian Chapter.
About her CISC Research she says
In HRC industrial contexts, collaborative operations refer to a particular application in which an operator and a robot share the same workstation. This type of collaboration enables the operator and industrial robot to perform tasks within a predefined work area; this ability to work collaboratively is anticipated to increase productivity, but raises safety concerns due to the increased likelihood of hazardous situations arising due to the proximity of humans and industrial robots. Developing collaborative applications requires a commitment to safety.
I am currently conducting a study on CISCS Live Lab-I, setup in IMR, for design level risk assessment in accordance with the working modules of Pilz, Ireland. The objective is to grasp the HRC ergonomic safety criteria in relation to safety requirements. Below is the earliest illustration of live lab-I. The purpose is to comprehend the HRC ergonomic safety criteria relative to industrial safety standards.
About her accomplishments she says: I am delighted to share that I have completed training on machinery safety and passed the Certified Machinery Safety Expert (CMSE) certification examination. The training was organised by Pilz Ireland, and the certificate is internationally recognized and issued by TÜV NORD. Certified Machinery Safety Expert is a globally recognized certification that gives a sustained 360-degree perspective of the machinery safety industry.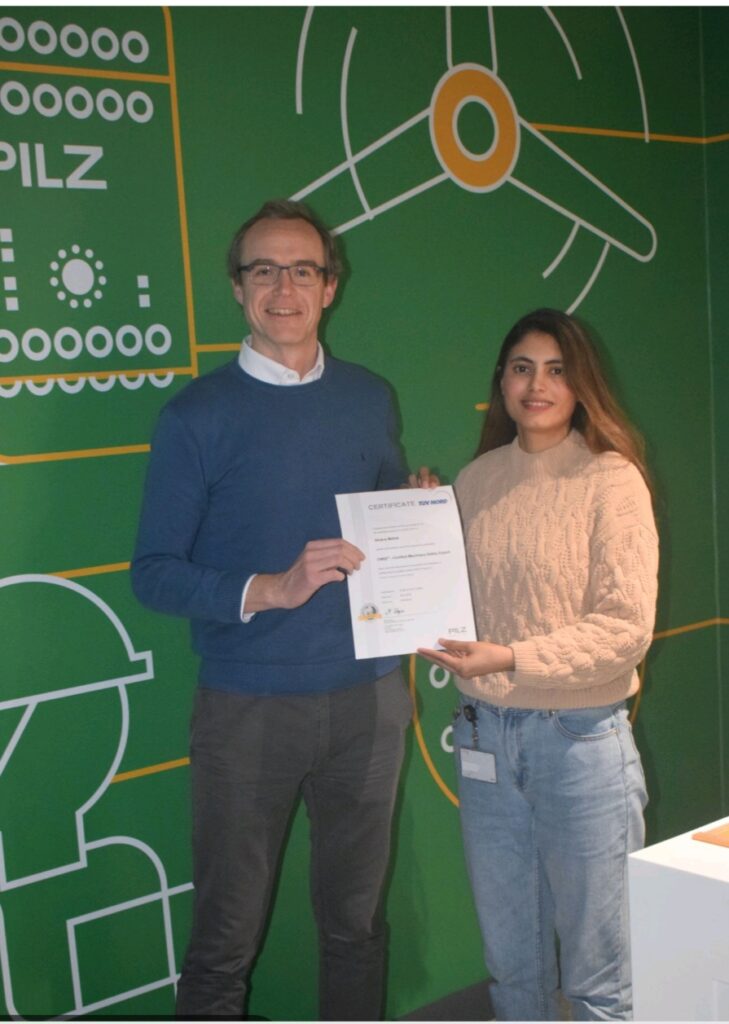 Achievements:
September 2022: ESREL PAPER Evaluating Safety and Productivity Relationship in Human-Robot Collaboration (co-author)